'Sheer' as in 'nearly.'
'Sheer' as in 'diaphanous' (no one tell me I do not make an effort with the English language) also.
Diaphanous is big this year – especially for Spring and Summer. It is not new, the sheer, see through fabrics usually turn up around this time of year, yet I find some or other new idea that I feel drawn to.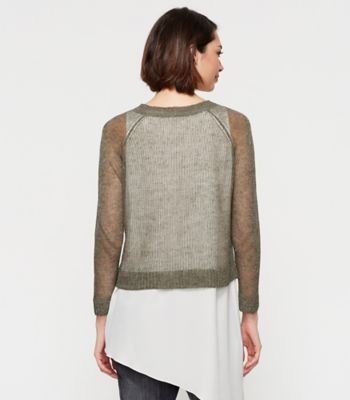 Pictures courtesy of eileenfisher.com
These two sweaters are just an example – there are so many possibilities for us knitters to get inspired.
I will admit that knitting a sweater like that is usually a bit of work, since you want to use a fairly thin yarn on slightly larger needles than you would use normally – but the effect is worth the effort.
Lets face it: There is rarely a summer knit I feel comfortable wearing without a tee or a cami underneath, this way I make at least the most of it.
You might be surprised how much pops up by just entering 'sheer' into the pattern search on ravelry. However, you can just look at all the designs and imagine them in a thinner yarn that would make them light, airy and summery.  Here are some of my front runners:
The Silken Straw Summer Sweater by Purl Soho. Picture form here. Think Habu Tsumugi Silk, for a special kick Silk Stainless held together with the Fine Merino or Handmaiden Lino (which is available in store, and we just got new stock!).
Yes, I know, this one (Sweet Jane) does not look diaphanous. It is knit up at a gauge of 25 sts with a fingering weight. Now imagine this knit up with Handmaiden Lino, a fantastic linen/silk mix in a lace weight and there you go! Picture from here.
Yes, indeed. This is one of our newer store samples, the Taiyo Linier Top in Shibui Linen and Silk Cloud. I tried it on and quite like it! Imagine it also in Quince Sparrow, Shibui Twig or Classic Elite Firefly. At a gauge of 18 stitches this one knits up in almost a flash!
One designer who has this look down to a tee is one of our all time favourites: Cocoknits. Check it out and pick your shoo-ins!
Now, wasn't this inspiring and 'sheer entertainment'?
Happy knitting, as ever!
– Mona